The Maritime Ultrasonic Level Indicator used to inspect liquid contents within marine fire suppression systems. The MAX Marine is for customers looking for high-speed testing and where high-intensity testing is expected.
8th Generation world-leading Ultrasonic Level Indicator for Marine Applications
The Portalevel® MAX MARINE is an ultrasonic liquid level indicator for any Marine Servicing companies used to testing liquid contents inside large volume of contents in fire suppression cylinders.
Test Your Marine Fire Suppression Systems
The Portalevel® MAX Marine is a marine unit designed for shipboard use and serving the shipping industry and offshore worldwide. The Portalevel® MAX Marine is ideal for testing more specialized agents onboard such as FM200® and NOVEC™ 1230.
Test Quickly: For any vessel or servicing company having to deal with the common time pressures of having to measure very high numbers of onboard fire suppression cylinders, especially CO2, the Portalevel® MAX Marine provides the ideal tool. Often during annual certification, there is significant time pressure on completing the inspection of every cylinder accurately in order to ensure this critical piece of safety infrastructure is fit for purpose. To address this need, the Portalevel® MAX Marine has been designed to inspect cylinders incredibly fast. By reducing the time required to inspect each cylinder, crew members and Servicing companies alike can complete the task quickly and efficiently.
Test Approved: The Portalevel® MAX Marine boasts 

ABS Type Approval, UL Approval and RINA Accepted

Test Multi Banked Cylinders: The devices are supplied with the Multi-Banked Extension rods, allowing the operators to easily inspect 2, 3 or 4 rows of cylinders.
Test a Wide Range of Verifiable Agents: Whilst CO2 is the most popular application, the Portalevel® MAX Marine is also capable of inspecting a variety of other clean agents such as FM200® and NOVEC™ 1230 as regularly found onboard more advanced modern vessels
Safer Testing: This method also completely removes the need for weighing cylinders which is an incredibly time consuming and dangerous method which can often result in damage to the system during inspections.
Comply with Regulations: IMO SOLAS & FSS Code Chapter 2.1.1.3 – "Means shall be provided for the crew to safely check the quantity of the fire extinguishing medium in the containers."
Advantages
Quick & easy non-invasive level measurement
Accurate to +/- 1.5mm to the true liquid level
Long term reliability & battery life, lightweight, compact & durable
Approvals UL Listed, ABS TYPE, RINA Class.Soc
Saves time & labour compared to weighing. 1 person vs 2 people, 30 seconds vs 15 minutes
Innovative & intuitive technology to inspect cylinders & tanks
Minimise risk to personnel (i.e keep fire system turned on & cylinders in-situ)
Hands-Free Testing
The package comes with a slimline extension rod, just 12mm wide, which can slip between the cylinder banks and check the 2nd, 3rd or 4th rows of cylinders easily, without having to remove any tanks from the manifold.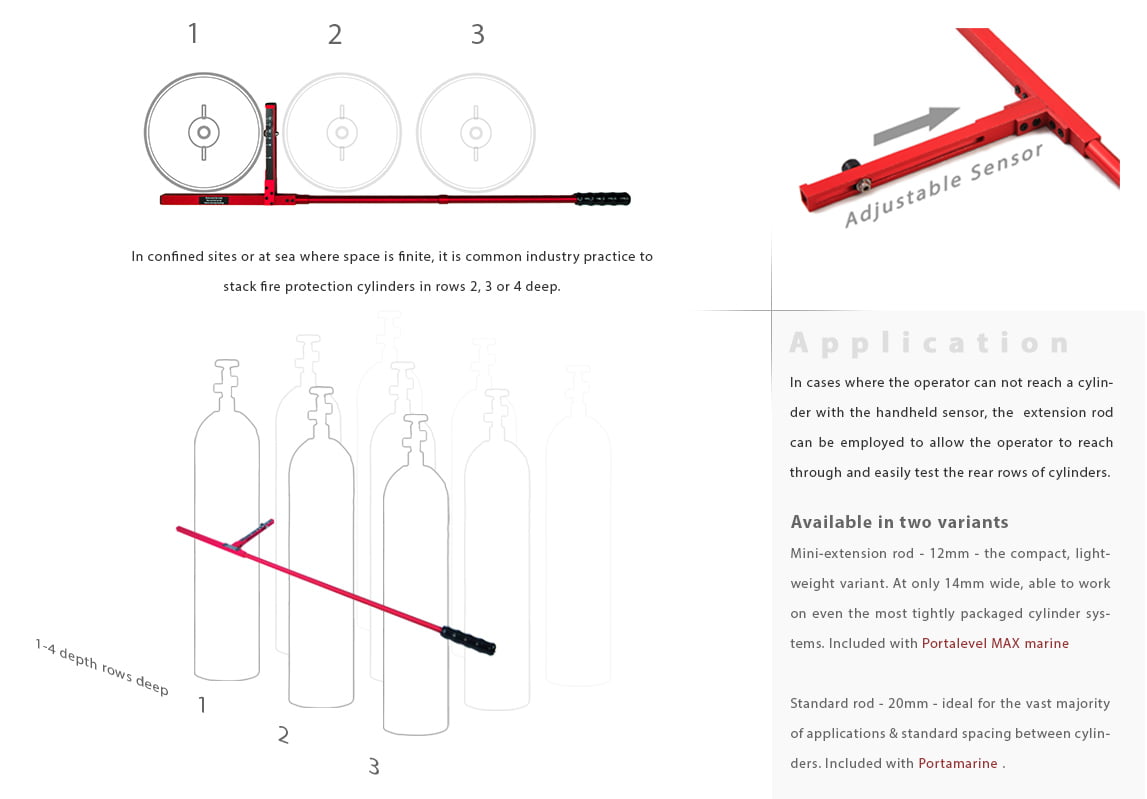 By Coltraco
Also, see the full range of Ultrasonic Testing Tools
Please note that due to the complex nature of shipping for certain products it will be more cost effective to contact AMI directly using the operations@amimarine.com address or the telephone number +44 (0) 2380 480450, for a bespoke quotation.
Our team are able to create bespoke quotations for you for all of your needs and delivery requirements.
We are able to ship to all parts of the world. Transit times vary and are usually between 2 and 5 days depending on the destination.
All orders taken through the e-shop are acknowledged by the team at AMI Head Office and an expected delivery date will be advised.
Full terms and conditions are available on the Legal page.