NGT-1 NMEA 2000® to PC Interface
NGT-1 NMEA 2000® to PC Interface
Interface your PC to the NMEA 2000® bus.
The NGT-1 is an intelligent NMEA 2000 gateway able to precisely Transfer messages to and from the NMEA 2000 bus. It is compatible with a wide range of Chartplotters, display and configuration applications available for PCs.
The diagnostic NMEA Reader software allows viewing of NMEA 2000 messages with configuration options, enabling some set-up of Actisense products on the NMEA 2000 bus.
Fully NMEA 2000 Certified
The handy firewall feature enforces the NMEA 2000 bus rules, so software developers can create compliant software at a fraction of the direct certification costs. The supporting Actisense Software Development Kit (SDK) helps to reduce the required development time.
With the upcoming 'Third Party Gateway' status, leading chart plotter software will be able to be certified to work with the NGT-1.
Actisense welcomes enquiries from software manufacturers who would like to incorporate NMEA 2000 and the NGT-1 into their software.
Ordering Information
(Part number/s)
The NGT-1 is available in two versions:
ACT-0062 is the standard option – USB interface for bi-directional connection to a PC.
ACT-0063 is a more specialist option – Opto-isolated input and ISO-Drive output for a direct PC bi-directional connection.
Features
Vital NMEA 2000 diagnostic tool
USB version is fully isolated to prevent dangerous ground loops
ISO version has OPTO-isolated input and ISO-Drive™ output for safely interfacing with RS232 or RS422
Up to 230,400 baud data transfer rate
Integrated 1.5m drop cable
Diagnostic receive LEDs
Benefits
Allows all major PC Chartplotter applications to interface with the NMEA 2000 bus
Provides a rule-enforcing firewall between the PC and the NMEA 2000 bus
Powerful diagnosis of the NMEA 2000 network using the FREE NMEA Reader software provided
Configure and flash-update Actisense products on the bus
Tech Talk
Sends and receives pure NMEA 2000 data
Configure and flash-update Actisense products on the NMEA 2000 bus
Use with NMEA Reader to help diagnose network problems
Provides a rule-enforcing firewall between a PC and an NMEA 2000 bus
NGT-1-USB and NGT-1-ISO versions available to suit all installations
Network Diagram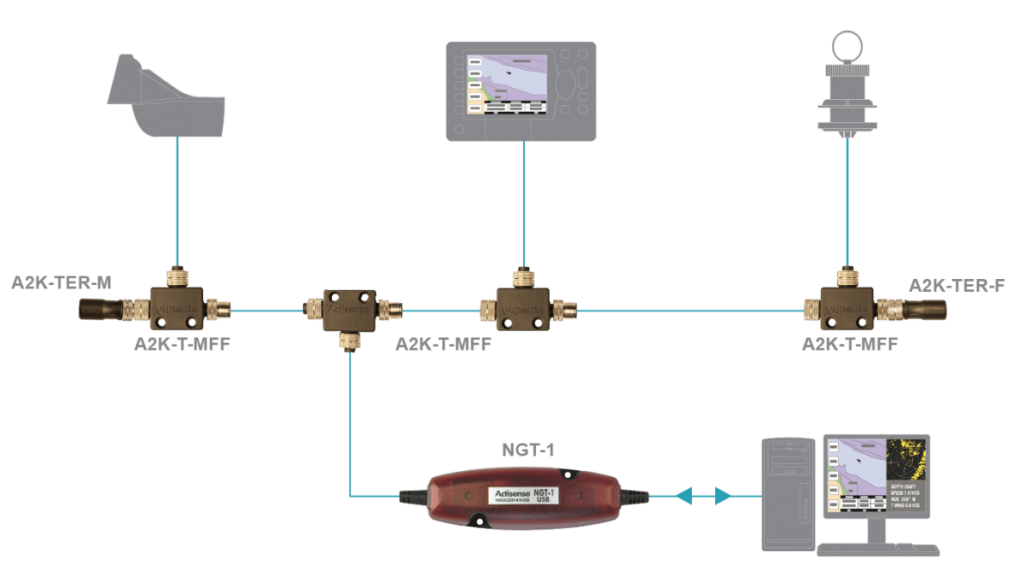 Also, follow us on social media